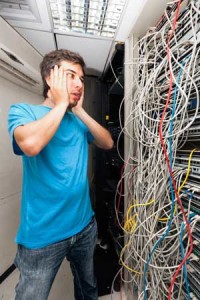 Picking the best business website hosting provider is the key decision for building a successful business website.
You will need such a service for hosting your domain name and storing your site files. And the hosting company must be able to keep your business website up on the web and getting found by your target audience.
Unfortunately, there are thousands of hosting services out there and, on the surface, they all look the same. If you're new to the industry it's hard to find a service provider that will work best for you, even after you have read various online reviews.
For that purpose, you will want an easy to understand guide for choosing the best web host, starting with website hosting requirements first.
Generic Business Website Hosting Requirements
1. Flexible web hosting plans. Web hosts usually offer many hosting plans: shared, dedicated and VPS. Shared hosting means there are more than one account per server. You would get your own server with a dedicated hosting and add different modules within your server with VPS (Virtual Private Server) plan.
2. Support various operating systems. There are three types of operating systems for servers: Linux, Unix and Windows. As you can use either operating system, look for a really good quality host than a good quality server.
3. Reliable and fast service. Down time means losing visitors. If someone finds your site on the search engine but your site is unavailable they will go somewhere else. Slow access is also very frustrating for visitors.
4. High bandwidth limit. Understand the traffic requirements of your site and how much traffic the hosting plan allows. Check your bandwidth limit and the charge for going over the limit.
5. Responsive technical support. Does the technical support work 24 hours a day, 7 days a week, all year around? Make sure that the phone number they provide actually is answered by a real person and you get a quick response from technically competent staff.
6. Affordable Price. For most users price is often a deciding factor. Even though the most expensive hosts are not always the best you often get what you pay for. So go with a web host that is in between, neither cheap nor expensive.
Which Business Website Hosting is Right for You?
Before you compare different web hosts take a look at your situation and type of services that might fit your needs. Which one describes your specific situation?
1. You have no website but want to start an online business.
You have never built a website and you know very little about starting a web business? Do NOT go with a generic web hosting service.
Make sure you pick an integrated service that bundles their hosting offer with a proven business building system.
2. You have ever built a website for hobby and want to build a business website.
Ever played around with a free web hosting service likes Blogger to create a personal blog? If so, chances are you already know how to create a simple website.
For a business website you may want to build one with the WordPress platform. Then add the WordPress functionality with a service that offers business building tools.
3. You have an offline business and want to get your business online.
If you have never built a website chances are an online website builder is the way to go.
But make sure you check whether you will need e-commerce functionality because you will need different type of services for your online business.
4. You own a website or more and want to start a serious online business.
You will want to build a business website with a shared hosting plan with the WordPress CMS. Or, if you want e-commerce functionality just go with an online e-commerce website builder.
Business Website Hosting for Beginners
You will want to avoid any generic website hosting service if you have never built a website. Here is my reasoning for the argument…
Building a serious online business is hard. This is especially true if you try to set it up starting from scratch. The learning curve is very steep and without the right guidance your chance of success is minuscule.
For that reason, you would want to go with a web host that integrates its services with a proven business building system. And the web host that offers such a service is SBI! of SiteSell.
The SBI! web hosting package is bundled with a proven business process and a set of marketing tools. It can help you develop a solid business idea and execute that into a profitable business, even if you have no tech background.
Why can I say that? Because I started my online business with SBI! –I personally used that product. Today I no longer use it but I still recommend it to you because it has worked for me and others, and I believe it will work for you too.
You can find my SBI! review here.
Business Website Hosting Or Free Web Hosting?
If you have played around with free web hosts like Blogger or WordPress.com, you're one step ahead to those who have never built a website. However, building a business website need a higher set of skills than the knowledge of making random blog post on Blogger.
If you really want to transform your hobby into a serious business you will have to learn more than just building a WordPress website. You'll also need to learn about many things like market research, content creation, SEO and other internet marketing skills.
It is possible for you to learn about website creation and building a business independently. But it'd be better if you simultaneously learn the two skills using SBI for WP plugin.
You can start setting up your WordPress website with a shared hosting plan from Hostgator. And at the same time get the proven business process and tools using SBI! for WP to help you build a profitable online business.
This is good approach for reducing risks because you'll be equipped to start a business with carefully thought-out business idea.
You can read my review about SBI! for WP here.
Business Website Hosting for Offline Business Owners
If you own an offline business and you want to grow it online the easiest and the fastest way to go is to create a website with an online website builder.
An online website creator can help you get your website up quickly. This is especially true if you already own good content for your new site.
However, there are still many factors that you want to take a look before you go online.
First, check whether you have to sell goods and services with your website or you just want to create informational content that allows you to interact with your audience.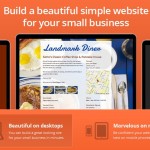 For selling products, you will need reliable e-commerce facilities with large storage capacity and bandwidth to handle the data transfer, which you can get from providers like Shopify.
But, you may want to go with Onepager if all what you need is an informational website as a way for you to connect with your prospects and customers.
Other than that, you will also need to learn about how online business process work and how to integrate your offline business process with the online one.
Business Website Hosting for Website Owners
If you already own a business website with a reliable shared hosting plan you might not need my advice. But you may want to check whether your web host meets the above requirements. Make sure the company is reputable for having a quick response time to clients' concerns and has lots of satisfied clients.
Since 2008 I have hosted some of my sites with Bluehost. For other sites and experimental projects my hosting provider is Hostgator.
Both Bluehost and Hostgator meet the above requirements and work good for their own unique purposes. I don't know whether their up-time is up to their promises but their downtime tend to occur during the no traffic period.
Do you sell or plan to sell products online? Check your e-commerce requirements.
If you're just starting out a shared hosting plan with e-commerce features may be enough. You can always upgrade the plan later. However, for a more complex e-commerce website I would recommend you to host your e-commerce website with Shopify.
What to Do Next?
Make sure you check all your options and pick a business website hosting that is right for you. Also, find out which new skills you will want to acquire to create a website that works for your business. If you have never built a website learn about the right website builder for you
here
.