Business website building is one of the keys to succeed online. If you build a great website right from the start chances are potential customers will find your company. You will be able to build relationships with them and slowly gain their trust in your company.
But, how do you build a business website that works?
When you build a website make sure the focus is on your target audience. You will need to closely look at your ideal customers and those competitors that serve that audience as well. Based on that knowledge try to develop a value proposition that will win their businesses over your competitions.
Here are 3 customer centric business website building tips to help you carry out that idea.
Business Website Building Basics
People look for specific information online with search engines. They are looking for answers by typing in keywords or phrases on Google. If you want them to find a webpage that answer their question it should appear on the first page of Google's Search Result. Here are the steps:
1. Research keywords — You want to research keywords your audience used, pick ones that accurately answer your audience needs for each stage of their buying cycle, starting from research to buying decision.
2. Build your website — Start creating content and constructing web pages using those keywords. Make sure you use your content to help prospective customers solve their own problems or, at least, show them where they can get a solution.
2. Build backlinks — To get on the first search engine page you will want to build reputations to your content with quality, relevant inbound links from authority sites in your industry.
3. Drive traffic — Search engine visitors are good source of traffic but it takes time. If you want quicker results and at the same time check your website conversion try pay-per-click or media buying traffic.
4. Build relationships — Starting a conversation on your blog post is a good way to connect with visitors. Another option is to create a forum where members can discuss topics of their interests. But you can also offer a free digital download or email newsletter as an exchange for their email addresses.
Building a website requires your time, serious research and careful implementation. If you don't have the time or don't want to build a website on your own consider getting help from
Sitesell Services
. A Sitesell webmaster will build a turnkey website than can bring more and more businesses for you.
Profiling Customers for Business Website Building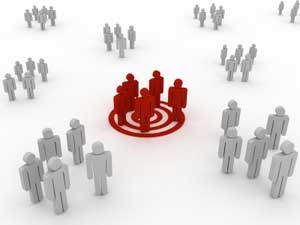 What do you want to sell? Is it a product, a service or an idea? No matter what product you want to sell give a great deal of thought to your target market.
When you're just starting out you will want to narrow down your market by finding a niche. Niche is a part of market where the demand for your products is enough and you are within your comfort level in serving it.
Just find the right niche and you can easily qualify your web visitors. Those people will understand your website focus and whether it can satisfy their needs and wants.
To accurately serve your target market you will want to learn about them via surveys and research. This will include creating a demographic (needs) and psychographic profile of your ideal customers. Demographic is all aspects related to the needs of your customers and psychographic is all things related to their wants.
You will want to translate that findings into "personas." Personas are fictional characters that represent key aspects –background, goals, challenges and values– of your audiences. Start your business website building with that personas as a basis for developing look and functionality as well as content that creatively solve their problems.
Business Website Building Tools and Tutorials
Ready to start building your first website? Get the right software and tools first. If you are willing to do it yourself, compare your options and get the easiest to use site creator.
I found an online website maker that is very easy to use for your short-term project. Click here to compare it with the self-hosted WordPress and then follow the business website building tutorials below:
What to Do Now?
Start building your first website today! Click here to get a comprehensive tutorial. Just read the easy-to-follow steps to take actions and you'll set up your first website in hours.